________________________________________________________
"CREATIVITY IS INTELLIGENCE HAVING FUN." - ALBERT EINSTEIN
Creatividad ed inteligencia divirtiendose
________________________________________________________
MAKE ART PART OF YOUR CHILD'S DEVELOPMENT: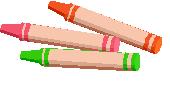 Haga Arte parte del desarrollo de su hijo(a)
Read books - talk about the illustrations.

Lea libros - hable de las ilustraciones
Celebrate your child's artwork - hang their drawings on the wall or save it in a way that makes your child feel his/her creation is important.

Celebre la obra de arte de su nino(a) - cuelgue sus dibujos en la pared o guardelo de una maera que haga que su hijo(a) sienta que su creacion es importante
Notice the art around you - take your family to museums, find art in local parks, at the train or subway stations, and on buildings. Start a conversation about it.

Note el arte a su alrededor - lleve a su familia a los museos, encuentre arte en paraques locales, en el tren o estaciones del tren, y en los edificios.
Always make arts and crafts supplies available and accessible to your child.

Siempre tenga maualidades y provisiones de arte disponibles para su nino(a).
---